For a long time, brands led the conversation. Whether a campaign was successful or disastrous, the public had no real power of reply. Social media has changed that. Now, one stray tweet can gain momentum and put a serious dent in your reputation… or cultivate greater engagement and help grow your audience.
How does a brand do that? By responding to events in real-time and effectively deploying humour when appropriate. This is called reactive marketing.
Here are a few ways in which well-known brands stood out from the crowd with quick responses and a lateral approach:
Those of us who've attempted to use the Duolingo app to learn a new language are very familiar with Duo, its green owl mascot.
Duo will pop up to gently remind you not to break your streak and get your brief learning session in for the day. Naturally, you might not always be in the mood. His little alerts can fill you with dread, his smiling face a reminder that, actually, you can't unwind just yet. There's homework to be done.
Duo's persistent notifications led to some fun on the internet. Memes began depicting the chirpy owl as a sinister figure, always watching and ready to strike down those who dared skip their daily Spanish lesson: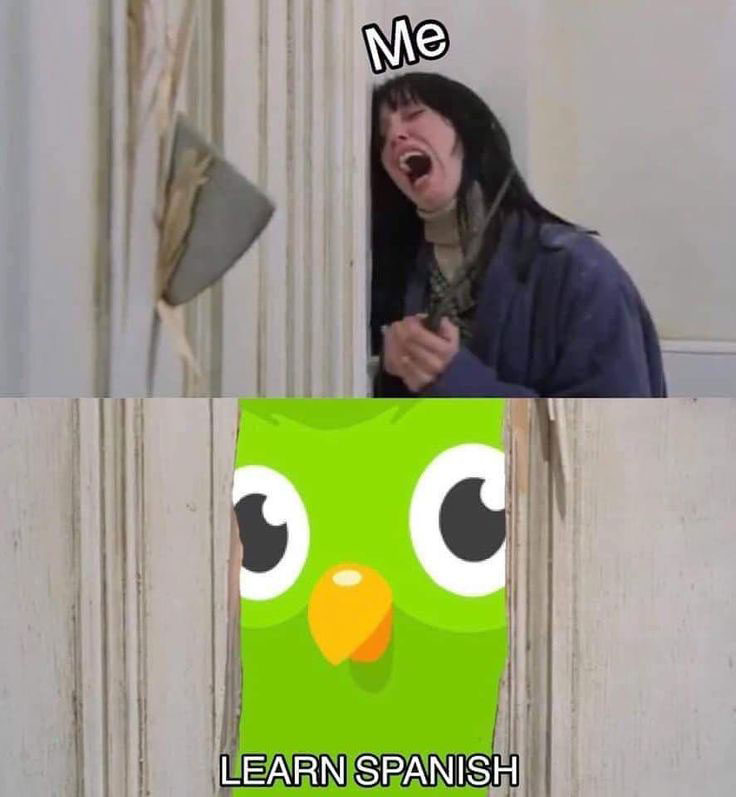 How did Duolingo – the brand, not the owl – react to this? Huffing and fretting that they're a serious business and should be treated as such?
Of course not. They saw these memes for what they were: a bit of fun. They even embraced the "eagerness" of their little green mascot and have brought him more to the forefront.
Why does this style of reactive marketing work for Duolingo?
They aren't pushing their product to the consumer, just using humour to engage by participating in popular trends (which also gets them visibility)
BIG brands (e.g., McDonalds) have seen the success of the Duolingo TikTok account and are eager to participate – this then makes consumers engage more as the comment section can be just as entertaining (or more so) than the video itself
They use Duo to personify their brand, giving the consumer/viewer an emotional connection with their mascot.
For example, here's Duo making a splash on TikTok by playing on the owl's "scary" persona whilst also referencing Squid Game, the smash-hit Netflix series.
Speaking of Squid Game…
Grab it while it's hot
Everyone was talking about Squid Game – and so were brands.
The South Korean show features a mysterious competition, one round of which involves cutting specific shapes out of honeycomb slices (it makes sense in context).
One of those shapes was a star. Heineken incorporated their own star logo alongside the other shapes from Squid Game, before sharing on Instagram.
Simple. Quick. Timely. Perfect reactive marketing. The post did very well and was shared far and wide. A great example of jumping on a popular trend.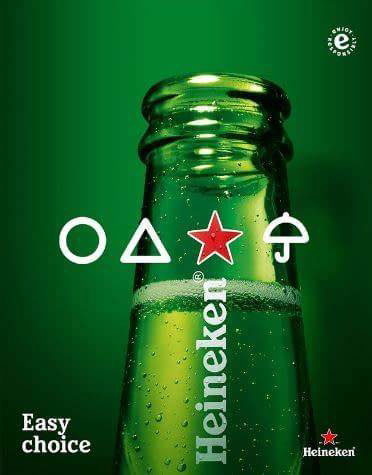 Nobody can predict what will become a meme. Nobody knows what the next trend will be. They arise organically and grow precisely because they feel spontaneous and authentic.
What your brand can do is watch conversations unfold and be ready to join in.
For example, recently the "red flag" trend got traction on Twitter. Red flags are those signs or things we notice in a person, often in a dating context, that tell us this person is probably not the one for you (one common red flag as an example: if they're rude to service staff).
The format for this was simple: a quote, followed by red flag emojis. Here's how a couple of brands got involved:
How long do you think this took? Probably just minutes. All it needed was a canny social media manager to join the current trend and create a positive impression.
Sometimes things go wrong. For Aldi, the supermarket chain, this came in the form of a caterpillar cake.
Marks & Spencer launched legal action against Aldi, claiming their Cuthbert the Caterpillar infringed the trademark of Marks & Spencer's own Colin the Caterpillar Cake. Aldi quickly saw an opportunity. Even if you can't win in court, you can win over the public.
Aldi and McCann Manchester launched a new social media campaign: #freecuthbert – a joking take on the legal quagmire that portrayed their own Cuthbert as an oppressed and imprisoned champion of the people.
The result? Headlines. Awards. The top trend on Twitter.
Things will not always go according to plan. But when life gives you lemons… a shift in perspective is all it takes to make lemonade.
Here's another example: when the Facebook, Instagram, and WhatsApp social platforms went down for six hours in October 2021, it left an unusual silence in the online social space – and not one opportunity went to waste.
Lots of brands jumped on the chance to have their voice heard, making jokes, having fun, and deftly using humour to connect with their audience.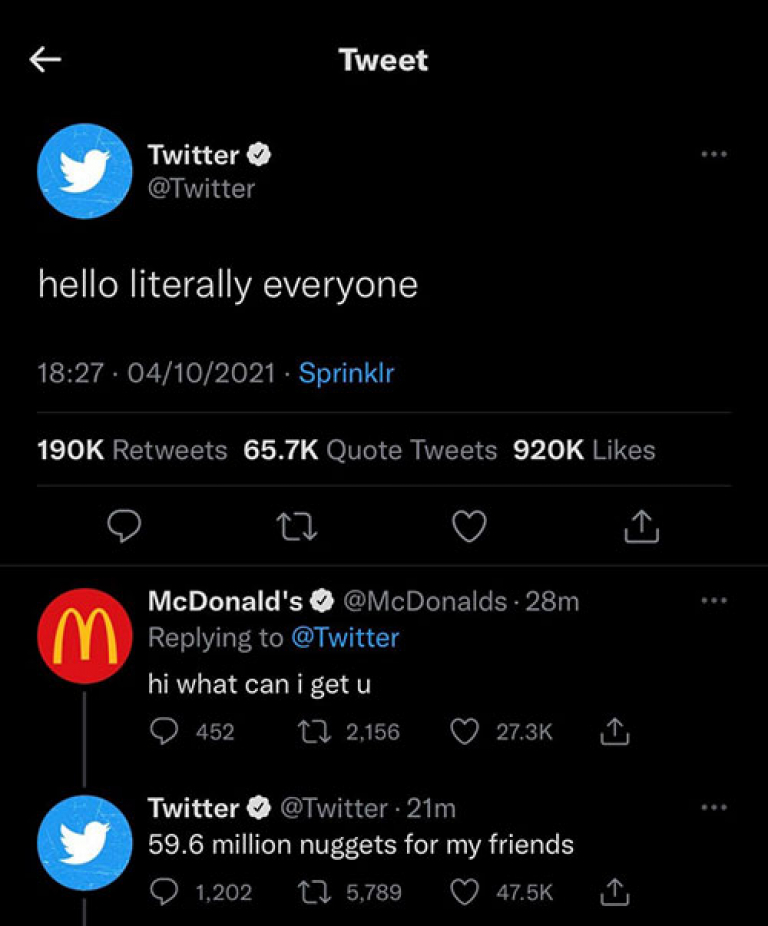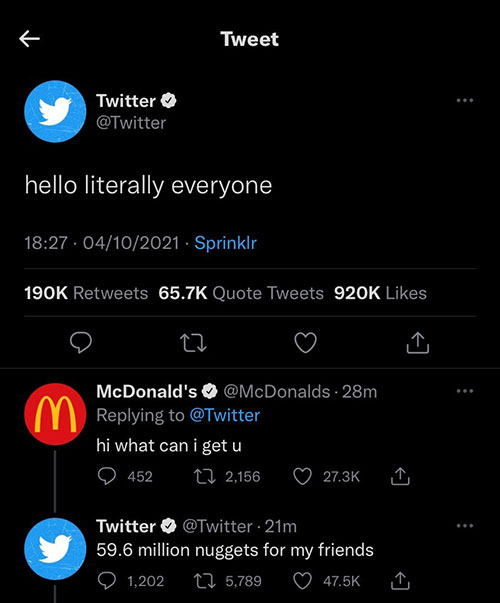 That's all well and good, but who has the time? How can you observe trends and engage with them quickly and in a way that works? And, ultimately, is it worth it?
This isn't just about social. All kinds of marketing benefit from a quick and precise touch.
Reactive marketing isn't just about scoring quick wins online. It makes you a presence in your target audience's lives. It demonstrates understanding of what's happening in your industry and what your customer base want. It can lead to ideas for content, future campaigns… and more.
Here are a few recommended resources:
Marketing Week –provide a daily "Everything that matters this morning" article for a quick news fix, as well as providing in-depth reports.
TikTok For Business Newsletter – this is great if you're looking to build your presence on TikTok. They give you with the latest trends, platform innovations, and tips and tricks straight from the experts (and you're the first to know about any burgeoning trends)
Google Trends – Analyses the popularity of top search queries across various regions and languages. You can also set notifications so you can hop on the train of new trends quickly
Your brand is not static. It can be as dynamic and fluid as you want it to be. Reactive marketing is all about finding smart ways to reach out and connect with your ideal audience in ways that are genuine and memorable.
Ready to dig deeper and let your brand thrive? Get in touch.